Overview
Packet microwave (PASOLINK family) and Carrier Ethernet provide scalable transport of 2G, 3G, HSPA, WiMAX and LTE, in addition to its support for both Ethernet and TDM with carrier-grade reliability. Advanced Quality-of-Service capabilities ensure that operators can provide customers with Service Level Agreement assurance and premium content delivery. NEC also support cost-effective LTE mobile backhaul solution with GPON, which well match the small cell solution with high capacity and flexibility.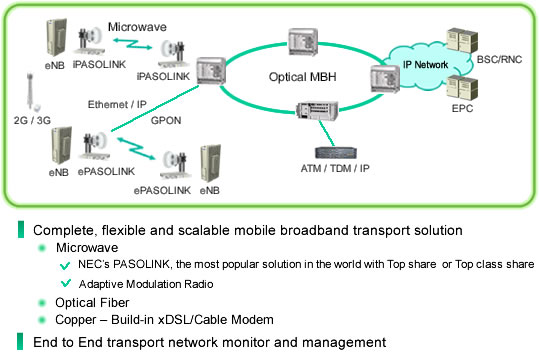 NEC's Advantage
NEC's small cell solution can be adaptive to any backhaul technology--- Packet microwave, Carrier Ether and Fiber / GPON. Especially, NEC's microwave-based solution provides flexible scalable architecture to enable low TCO, high capacity for LTE era.
Comprehensive End-to-End QoS across different network segments from eNB to backhaul and ePC.
Unified Network Management System and zero touch enables reduction of O&M cost significantly.