What is Electric Vehicle (EV) Charging Infrastructure?
As a clean, zero-emissions mode of transport, EVs are expected to gain popularity in the future. But at present, fully charging them is a time-consuming process that can take several hours using a household power supply. In addition, EVs are only able to drive short distances compared to gasoline-engine vehicles. To resolve these issues, a charging infrastructure on a national scale is essential.

In the future, EV fast chargers will expand beyond existing service stations. We will find them in roadside locations like convenience stores and shopping centers, at leisure facilities like theme parks and stadiums, and public facilities like airports and train stations. NEC will support the electric vehicle charging infrastructure with Smart Charging Stations.
Smart Charging Stations Supporting Electric Vehicle (EV) Charging Infrastructure
The Electric Vehicle (EV) fast charging infrastructure is expected to become a completely new social infrastructure on a national scale.

In order for Service Operators nationwide to smoothly operate charging stations at service stations and other roadside locations, they will need Smart Charging Stations based on ICT to be an integral part of the infrastructure.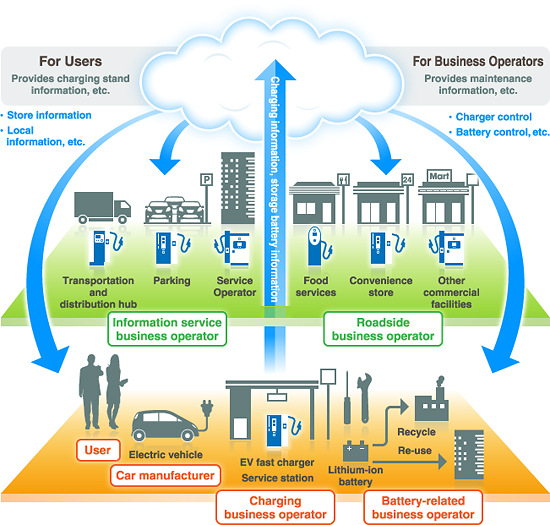 Charging Infrastructure that utilizes ICT
NEC's Initiatives
By developing and providing systems that utilize EV fast chargers, and ICT, NEC is contributing to the popularization of a convenient charging infrastructure that is easy to use.
EV Fast Chargers
Takasago Ltd., a subsidiary of NEC Corporation, developed a high-output (20kw-50kw) EV fast charger that complies with the CHAdeMO standard. The unit keeps electromagnetic radiation low and realizes a power efficiency of 90% or higher. Charging to 80% capacity can be achieved in about 30 minutes with the EV fast charger. This would normally take several hours using a household power source.
Participation in Field Trials
"Projects to Standardize and Promote Network Integration Control Systems" Smart Network Project, Ministry of Internal Affairs and Communications
We are conducting field trials for the standardization of cloud services that support the charging infrastructure.

EV fast chargers will be installed at field sites including Yokohama City's Minato Mirai 21 district, JX Nippon Oil & Energy Corporation's Hatsuyama Service Station (in Miyamae-ku, Kawasaki City) and NEC's Tamagawa Plant (Nakahara-ku, Kawasaki City). We are evaluating self-service charging systems that can be remotely operated and maintained. We are also conducting tests on electric vehicle map displays showing charging stand information and how to link member authentication between different cloud services.