EAs networks extend and link regions and countries, the volume of information being circulated will show explosive growth.

By enhancing its capability for quickly and accurately handling large volumes of information, NEC provides energy management systems which accumulate, extract and utilize data, also in real time and in a real smart way.
Metering Infrastructure is a complete Solution for remote control, Machine-to-Machine (M2M), data monitoring and automated two-way communications for multi-utilities applications. It consists of a system of wireless devices, repeaters and gateways transmitting data from any meters, management systems and sensors. It is an ultra low power modular wireless mesh sensor network platform based on the 6LoWPAN protocol.

It can implement multiple services. Specifically designed for utility and multi-utility companies, the solution enables to cost-effectively manage gas, electricity and water distribution networks and any energy service delivering different types of advanced information generated from various devices, such as meters, sensors, actuators, lamps, etc. It offers a superior and real time visibility and the possibility to tailor supply and Innovative integration.

Metering infrastructure also includes industrial Wireless Sensor Network solution for industrial data acquisition and machine management. It is a scalable and modular system enabling rapid and cost-effective design and deployment of a reliable mesh network.
This innovative system of cloud management in the electrical network, allows to provide the necessary information to DSO/TSO and let them to fully deploy their potential capacity in order to ensure an effective load curve tracking, finest frequency regulation, peak shaving and load averaging with a consequent overall efficiency enhancement and operating costs decrease.The innovative approach in the energy management of the distributed storage system is to share all the applications needed among different storages.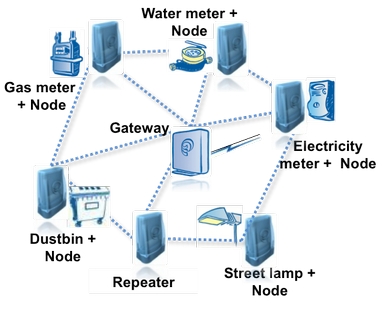 Back to Smart Energy Solutions