---
Approach
Virtualization with NEC
Overall capability covering heterogeneous virtual environments
In order to resolve issues of increasing numbers of servers and inefficient use of resources, it is expected that virtualization will increasingly be used to consolidate servers. Due to the difference in infrastructure requirements and usability preferences, NEC predicts that virtualization software deployed by business divisions and IT administrators will naturally vary. Eventually, the virtual environments for companies will become mixed.
One of NEC's strengths is that it can provide solutions appropriate for handling such mixed virtual environments. From the deployment of servers and virtualization software to centralized management, NEC provides comprehensive solutions tailored to customer requirements.

In addition to server virtualization solutions, NEC provides virtual desktop solutions.
VMware vSphere support
With rich experience in supporting VMware products, NEC offers comprehensive support for VMware's virtualization architecture.
Hyper-V support
In cooperation with Microsoft, NEC supports Windows Server 2008 Hyper-V with a large number of certified service professionals.
Server and storage products ideal for virtualization
NEC's product lineup is based on understanding office environments as well as IT requirements ranging up to large-scale data centers. NEC provides robust hardware designed for virtualization.
Integrated platform management software provides simplicity
NEC provides environments in which you can centrally manage mixed virtualization software and hardware operations.
Versatile solutions and services tailored to your needs
NEC understands that there are various needs related to determining the scale of the required system and how to determine requirements. Perhaps you want to start with a small system and expand it as necessary, or you want to carefully review your situation to make sure you deploy the system that is matched to current requirements. NEC can respond to each of these needs.

---
Features
What is server virtualization?
Server virtualization is a technology for partitioning one physical server into multiple virtual servers. Each of these virtual servers can run its own operating system and applications, and perform as if it is an individual server. This makes it possible, for example, to complete development using various operating systems on one physical server or to consolidate servers used by multiple business divisions.

Among the various virtualization methods available, NEC primarily focuses on virtualization software solutions. Because the virtualization software, or hypervisor, used by NEC runs directly on bare hardware (physical servers), our virtualized environments have little overhead. NEC's proven, reliable solutions are built upon years of experience with virtualization.

In addition to server virtualization solutions, NEC provides virtual desktop solutions.
Server virtualization features
All the virtualization software provided by NEC have the following features.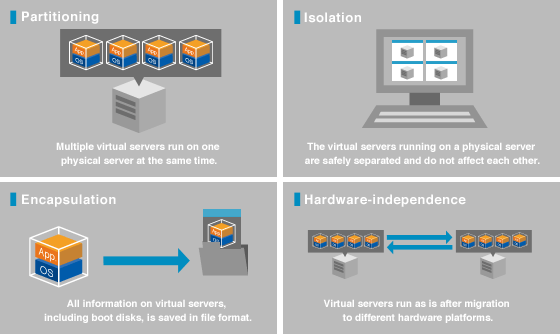 Benefits
Primary advantages of server virtualization
Reduce number of servers
Partitioning and isolation, the characteristics of server virtualization, enable simple and safe server consolidation.

Through consolidating, the number of physical servers can be greatly reduced. This alone brings benefits such as reduced floor space, power consumption and air conditioning costs. However, it is essential to note that even though the number of physical servers is greatly reduced, the number of virtual servers to be managed does not change. Therefore, when virtualizing servers, installation of operation management tools for efficient server management is recommended.
Reduce TCO
Server consolidation with virtualization reduces costs of hardware, maintenance, power, and air conditioning. In addition, it lowers the Total Cost of Ownership (TCO) by increasing the efficiency of server resources and operational changes, as well as virtualization-specific features. As a result of today's improved server CPU performance, a few servers have high resource-usage rates but most are often underutilized. Virtualization can eliminate such ineffective use of CPU resources, plus optimize resources throughout the server environment. Furthermore, because servers managed by each business division's staff can be centrally managed by a single administrator, operation management costs can be greatly reduced.
Improve availability and business continuity
One beneficial feature of virtualized servers not available in physical server environments is live migration. With live migration, virtual servers can be migrated to another physical server for tasks such as performing maintenance on the physical servers without shutting them down. Thus there is no impact on the end user. Another great advantage of virtualization technology is that its encapsulation and hardware-independence features enhance availability and business continuity.
Increase efficiency for development and test environments
At system development sites, servers are often used inefficiently. When different physical servers are used by each business division's development team, the number of servers can easily increase. Conversely, when physical servers are shared by teams, reconfiguring development and test environments can be time and labor consuming.

Such issues can be resolved by using server virtualization to simultaneously run various operating system environments on one physical server, thereby enabling concurrent development and test of multiple environments. In addition, because development and test environments can be encapsulated and saved, reconfiguration is extremely simple.
NEC specific advantages on server virtualization
NEC specific advantages on server virtualization
The impact of a failure in a physical server can increase after virtualizing and consolidating servers. To prevent such problems, NEC provides ExpressCluster and other products for improving the availability of virtual servers.
Assume a mixed virtual environment
In the near future it can be assumed that physical servers and various types of virtualization software will co-exist in one environment, making IT operations more complicated. NEC's management tool, NEC SigmaSystemCenter, allows smooth, centralized control of such complex mixed environments.
---