Overview
High-performance clusters with hundreds or thousands of compute nodes are essential tools in industry and academia. The application of numerical simulation methods for product development, optimization and research is the key for improved and innovative products as well as advances in science and technology. Technical and scientific computing creates huge amounts of data, therefore scalable filesystems became critical components for building HPC systems. With LXFS NEC has developed a mature solution for research and industry - complete and cost-effective for small to large-size deployments with highest availability.
Solution - Modular and Scalable
NEC LXFS is a scalable parallel file system product based on Lustre and aimed at setups which require high storage capacities paired with huge I/O performance, like HPC or bigdata applications.

LXFS is a complete filesystem solution consisting of server and storage hardware, filesystem software, a deployment concept, a management and monitoring concept paired with an emphasis on reliability and redundancy and bundled with support services.

A LXFS integrated high performance parallel filesystem setup is composed of functional building-blocks that can be combined to match the customer's performance and capacity requirements, and extended to grow with his demands. Each block is built with carefully selected and validated servers, storage devices, readily configured as an appliance running the Linux operating system, Lustre file-system software, high-availability stack, management and monitoring software. Three categories of building blocks are available:
Metadata Blocks: available with active-passive redundant Metadata Server (MDS) pair and one or more external RAIDs with dual, redundant controllers, sizable according to the customer's needs. The management management services are running on this block and are controlled by the high-availability stack, like the filesystem services.
Object Store Blocks: available with an active-active redundant pair of Object Store Servers (OSS) and in single OSS configuration. Various storage configurations are available in regular density as well as in high density with up to 144TB usable capacity in 4 height units.
Exporter Blocks: in redundant active-active configurations of up to four NFS exporter / LNET router nodes.
All blocks come with Infiniband QDR network support and can be configured, alternatively, with 10Gb Ethernet. A minimal configuration consists of a Metadata Block and at least one Object Storage Block.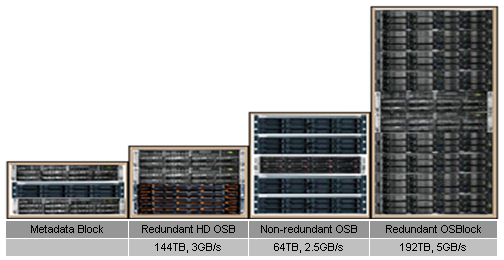 LXFS metadata and object store block examples
Reliable Service
LXFS components are designed as appliances built with reliable hardware components: servers and storage devices have redundant power supplies, where appropriate, dual controller RAIDs with supercapacitor or battery backed up mirrored cache are used. A carefully configured high availability stack ensure that services are continuously available and recover in case of a server or network failure. The integrated monitoring with a multilevel notification system informs about the service availability at any time. Well defined system checks decide which action has to be taken if a system component does not operate in the defined parameter range. This ensures the highest quality of service and an optimal uptime.
Support
The LXFS basic support package includes the installation, configuration and integration of the setup into the customer's environment as well as updates and support services. Incident tracking and requests for change are done through NEC ITIL based support. The international support team is reachable via e-mail, service hotline and a Web-based RT trouble ticket system.

Additional services offered by the NEC LXFS consulting team are: extended problem analysis related to system configuration, planning and implementation of changes, application analysis, benchmarking and optimization.

Administration and user trainings are available and can be held at the customer's site or at NEC locations.